Funding Your Future:
Search Scholarships, Find Resources and Tips for Applying
Timeline for Tackling Scholarship Applications
It's never too early to start creating a plan of attack for garnering scholarship funds, especially for graduate students who completed their baccalaureate degree a few years earlier and may be rusty on the process. While the majority of scholarships have varied requirements and deadlines, a lot of materials can be reworked and suitably used for numerous applications.
Featured Online Schools
To give yourself plenty of time to secure as much funding as possible, follow our 12-month plan below:
Sep
Start researching! Now is a great time for students to familiarize themselves with institutional scholarships at prospective schools, use scholarship databases to learn about private grants, and start pulling together paperwork needed for the Federal Application for Student Aid (FAFSA®). Think outside the box and do expansive research during this time: don't limit searches to scholarships related to intended areas of study. Think about exceptional factors that may qualify you for other funds, including those specific to minorities, genders, regional areas, income levels, or future career aspirations.
Oct
Apply for the FAFSA®. This application opens on January 1 and is rolling, so the sooner students are able to get it in, the better their chances. Graduate students need to use their own financial records and file as an independent, so make sure you have all documentation ready to go. The U.S. Department of Education provides a helpful list of all needed paperwork.
Nov
A large number of scholarship and grant applications require one to three recommendation letters from previous professors, work supervisors and/or personal contacts who can speak to a student's merit. With varied deadlines and busy schedules in mind, it's best to contact anyone you may wish to speak on your behalf well in advance of any submission dates. Some scholarship panels contact referees directly, so make sure you've made all of your contacts aware that you've provided their contact details.
Dec
Begin working on your personal statement. Graduate level essays will be put under the microscope by admissions panels, so it's worth your time to get this right. They'll want you to demonstrate how skills in critical thinking, analysis, self-awareness, and subject mastery have developed through previous education, and see that you've considered how a graduate degree will serve your goals for the future.
You should also use this time to select any required writing samples and work with a trusted mentor or former professor to fine tune them. Some require entire papers while others require excerpts, so getting them under the eyes of a professional will help in objectively selecting your best work.
Jan
Now that you're aware of different scholarships available, make a calendar. Scholarship deadlines span the year, so it's important to create an overarching timeline of all the funding opportunities you wish to go after and give yourself deadlines to ensure all applications can be completed on time.
Feb
Mar
Apr
May
The majority of graduate scholarship applications will be due during these months, so focus your efforts on making sure each is completed with full attention on individual requirements. The majority can be submitted online, but a few outliers still require them to be printed and mailed. Others may require a phone interview for serious candidates, so be sure all of your contact details are up-to-date.
Jun
Jul
Aug
Most application panels let prospective awardees know whether or not they've been granted funds during these months. If you've been awarded multiple institutional scholarships or grants, now is the time to take a closer look at those programs and decide which school is the best academic and personal fit for you. Once decided, let both your chosen school and those you elected not to attend know of your decision.
If you didn't receive enough funds to fully cover your education, now is also the time to research and secure funding from other sources. The FAFSA® application also serves as a qualifier for a number of federal loans, which experts recommend as the best type of loan given their low, fixed interest rates, income-based repayment options, and opportunities for postponement.
Graduate Scholarships by the Numbers
As of 2014, graduates of four-year degree programs left school with an average of $28,950 in student loan debt. Meanwhile, the most recent NCES data on graduate degree program costs, while acknowledging the great variance amongst programs, found public and private master's programs average $26,288 and $61,104, respectively.
While students can't erase previous loans, they can avoid further debt and pay for their graduate education with a mix of scholarships, grants and fellowships. Wondering about the current financial landscape in graduate education? The statistics below are here to help students see the enormous untapped potential of master's and doctoral level scholarships.
In the 2012-13 academic year, graduate students received 30 percent of funding from grants, 64 percent from loans, and 6 percent from tax credits/deductions and Federal Work Study. (CollegeBoard)
As of 2011, only 10 percent of scholarships from private foundations were solely awarded on academic performance.
In the 2012-13 academic year, private foundations awarded more than $6.2 billion dollars.
Though in the past it seemed the only way to secure graduate funding was through fellowships or loans, today's scholars have a wide variety of scholarships and grants available to them. The cost of master's degrees varies widely among subject areas: a medical degree at a top 10 private school will set students back by $278,000, while an in-state student could get an excellent education in environmental science at a public school for less than $40,000.
Regardless of their intended degree path, students can take actions to help cut their costs and graduate without crippling student debt.
What does graduate school cost these days?
The National Center for Education Statistics released its latest data on the average costs of graduate tuition and required fees for 2014. Some of the overall yearly costs are detailed below. These should be multiplied by either two or three, depending on the amount of full-time study required for graduation.
Average Private Nonprofit
$24,467
Average Private For profit
$14,210
Average public in state
$10,242
To get a better sense of the overall disparages between degree costs, the table below highlights a few common graduate degree paths along with their average annual cost of tuition.
Featured Online Schools
Why don't students apply for these free funds?
While grants constituted 52 percent of all undergraduate funding for the 2012-13 academic year, it only accounted for 30 percent of graduate funding. Despite federally funded post-baccalaureate grants increasing dramatically in the last decade – from $611 million in 2002-03 to $1.8 billion in 2012-13 – graduate students are still borrowing an average of $17,230 each year in federal loans.
Funds are available, with options ranging from institutional and private scholarships to federal grants and employer assistance programs. Perhaps the biggest issue is ensuring all students are filling out the Free Application for Federal Student Aid (FAFSA®). This federal document not only gives students access to low-interest loans, it also qualifies them for federal grants and work-study programs.
In the latest National Postsecondary Student Aid Study, data showed 73.5 percent of all graduate students received federal aid in the form of grants, tuition waivers, loans, or work-study programs. Given that the FAFSA® is based off a student's independent income at the graduate level, it is likely many are leaving unused funds on the table.
Graduate students also face a shortage of time. With many working part- or full-time while taking the GRE, completing applications and beginning programs, finding time to apply for scholarships may seem impossible. Thankfully, once prospective students have done the groundwork for one application, more follow quickly.
Does it take a ton of effort to secure scholarships?
The scholarship application process can seem time-consuming and laborious for those without an action plan. While it's true students must devote time and consideration to their applications to be competitive, it's often less work than imagined. Common steps include:
Research your options
Whether pursuing institutional, federal, private or employer-based scholarship and grant options, students need to get a full view of the field before diving in.
Write thoughtful essays
Each application will be different, but starting with a thoughtful essay demonstrating application of undergraduate learning and a clear progression to your chosen postgraduate path is a solid foundation.
Gather letters of recommendation
The most time-intensive portion of this step is simply selecting one person each from your academic, professional and personal backgrounds and asking them to write a letter on your behalf. Schools will work with referees privately to secure these recommendations.
Update documents
Admissions panels may want to see a range of documents, so having all of these ready before you begin applying can save lots of time. Common paperwork may include financial history, undergraduate transcripts, standardized test scores, and a resume.
Follow directions
Perhaps the easiest yet best piece of advice is to simply take time to review each application and ensure you're following requirements exactly. Many applications are discarded for mistakes that could've been easily avoided.
How much money can a student get annually?
While national data on private and institutional scholarships at the graduate level is hard to come by, it's clear students can obtain more funding than they are currently. As of 2012-13, federal grants accounted for 3 percent of all graduate financial aid; meanwhile, 64 percent of funding came from loans. CollegeBoard's 2013 report on trends in student aid illuminated fascinating figures about sources for graduate funding, as well as a breakdown of how much money students received from these entities.
Graduate Student Aid by Source and Type (in Billions), 2012-13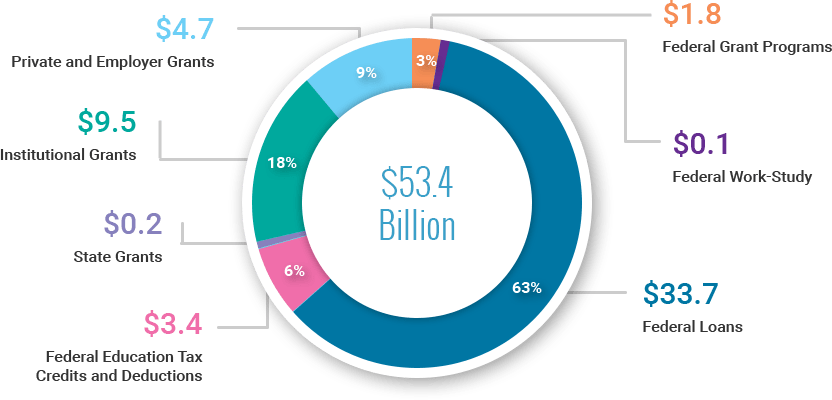 NOTE: Percentages may not sum to 100 and components may not sum to total because of rounding. See notes and Sources for a list of programs included in federal grant programs. Nonfederal loans are not included because they involve no subsidy and are not actually a form of financial aid.
Source: Trends in Student Aid
What are some of the most popular scholarships for graduate students?
Graduate students have thousands of scholarship and grant opportunities available to them, with a few perennial favorites attracting the attention of students across the country. While applying for these will guarantee stiff competition, they are also popular for good reasons. The possibilities for full funding, attending a prestigious graduate program, and landing an exciting postgraduate opportunity are all possibilities for students receiving these impressive scholarships.
FACT OR FICTION: GRAD SCHOOL SCHOLARSHIPS
With a multitude of federal departments, higher education institutions and private institutions offering myriad scholarships, sometimes wires can get crossed. The following section outlines some of the most common truths and misconceptions about scholarships and sets the record straight once and for all.
1 It's easier to get a scholarship as a minority.
FICTION
It's true: there are a lot of scholarships available specifically to minority students and other special populations, but there are plenty of other scholarships open to all students. A 2011 report by FinAid found white students still receive over 75 percent of all merit-based scholarships and are 40 percent more likely than minority students to be awarded a private scholarship.
2 Too many people apply; I'll never beat the competition.
FICTION
While this may be true for scholarships that don't require many supporting documents, rigorous applications seeking essays, recommendations and a thoughtful personal statement often weed out many students looking for quick funds. It may take longer, but these scholarships almost always have fewer applicants.
3 I'll need perfect grades.
FICTION
Academic scholarships look for top grades, but many scholarships are focused on other factors such as extracurricular activities, volunteerism or intended major. As of 2011, only 10 percent of scholarships from private foundations were solely awarded on academic performance.
4 I should seek funding from multiple sources.
FACT
It's wise not to put all your eggs in one basket. Even for students with a stellar academic history and an unending list of achievements, being awarded a scholarship is never a given. The latest statistics provided by the National Postsecondary Student Aid Study found 3.7 percent of graduate students received private fellowship funds, averaging under $5,800.
5 I can fund my education solely on scholarships and grants.
FICTION
Scholarship and grant funds can dramatically reduce the overall cost of higher education, but you'll likely still have to pay a certain amount out of pocket or take out a small loan. According to U.S. News & World Report, only .3 percent of all students are able to cover all costs with only scholarships or grants.
6 Institutional scholarships are worth pursuing.
FACT
Out of all prospective scholarship sources, nearly 73 percent of funds are provided directly by the institution. As of 2013, this amount averaged $5,645 annually. Most colleges automatically consider prospective students for these scholarships once accepted, but it's worth it to speak with the school's financial aid counselor to ensure there are no additional applications.
7 I can receive scholarships regardless of my economic level.
FACT
There's a misconception that only economically disadvantaged students receive scholarships. While there are a number of scholarships aimed specifically at this population, students from varied economic levels qualify for this type of funding. California's Student Aid Commission has a scholarship program specifically for students from middle-class families, while a recent report found students hailing from the top 25 percent also received more than one-quarter of all merit-based scholarships.
8 I don't have time to apply.
FICTION
Many scholarships require similar information, so once you've done the leg-work for the first application, you can often reword this text to make it usable for numerous scholarships. Keep a document with each variation, making it easy to pull previous answers and fit them to the application at hand.
9 The government provides the most money.
FICTION
Government grants provide only a small portion of overall funding, with private and institutional scholarships contributing significantly to overall funding packages. In the 2012-13 academic year, private foundations awarded more than $6.2 billion dollars.
10 Scholarships should be applied for each year.
FACT
In addition to multi-year scholarships, a number of non-renewable or one-time scholarships are also available and can be applied for even after being accepted to and beginning a graduate level program. Even if you're concerned you didn't receive as much funding as you'd hoped for in the first year, seek out scholarships, fellowships or grants specific to those who have already completed one year.
11 I should fill out the FAFSA®.
FACT
In the previous academic year, students left $2.9 billion in untapped grant funds supplied by the federal government. 47 percent of students did not even fill out the FAFSA®, making them ineligible to receive a Pell Grant. As of the 2013-2014 academic year, the average annual Pell Grant was $3,629.
12 I should never pay to get a scholarship.
FACT
Scholarship scams abound, with numerous shady operations offering to help students find untapped funds for a fee. The University of New Mexico offers helpful advice about scholarships websites to be wary of, including those that charge a processing fee or offer to submit the application on the student's behalf.